NYC Expeditor
At NYC Expeditor we have two passions:
Getting Building Permits for our clients in the most expeditious manner.
Getting NYC ECB Violations Removed.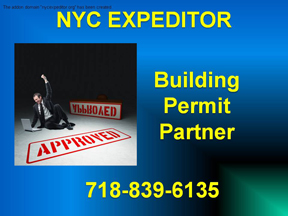 First, from a NYC Expeditor point of view, lets us talk about Building Permits and then NYC ECB Violations.
At NYC Expeditor we ensure that our clients' focus on their core activities as we handle all their procedural work related to Building Permit issuance.  This not only allocates them more time to do what they know best, but gives them the required piece of mind to concentrate fully on it.
Many clients consider the process involved in getting Building Permits mundane, non- constructive, and very tedious.  At NYC Expeditor we are experts in the processing of permits for buildings, we know the right people to deal with at all stages in the bureaucracy.
At NYC Expeditor we are leaders in building permit expediting, we do not discriminate and will serve large and small scale corporations, homeowners, small businesses etc.  We encourage all our clients not to bother themselves with any issues concerning building permit needs.  At NYC Expeditor our professional will work tirelessly to ensure that our clients get their building permits that comply with the codes established for buildings, and are on the right side with the legal authorities.
NYC Expeditor – Why Use ?
Our work as a NYC Expeditor is about communication, speed and organization.  Only the right expeditor who knows how to deal and work with people at all levels in multicultural settings can make it as a NYC Expeditor.
Tracking Building Permits requires a persistent and meticulous follow up of the Building Permits without brushing people the wrong way.  It should be done in the most professional manner and with integrity.  Each task should be done right the first time to avoid repetition and to avoid delays. That is the way things are handled at NYC Expeditor.
A NYC Expeditor reviews all documentation at all the required stages to ensure that no processes are repeated at any time. You can be comfortable that all paperwork for all Building Permits is taken care of ASAP.
A NYC Expeditor can also follow up on Building Permits that expired several years ago, in addition to lost permits and all other services related to Building Permits. Obviously this can be a tedious task.  Such tasks may not be accomplished correctly if given to anyone who is not a skilled NYC Expeditor.
How a NYC Expeditor Can Help?
A NYC Expeditor must keep alert to the most recent legal requirements that have been implemented by the authorities if they are to be effective. Building permit laws are dynamic and require those who handle them to be very knowledgeable.  A NYC Expeditor should conduct research and keeps up with all the local law and ordinances.
For any project to undergo the full cycle, it requires several documentations that must comply with specific laws.  The NYC Expeditor must manage their way through the network of beaureaucracy that can only be compared to a jungle, to ensure that no stage has been passed until the final license is issued.  This process if done by a NYC Expeditor can save a client a lot of money and time.
Acquiring building permits depend a lot on the amendments made on the project, and the reviews required.  More complicated projects take longer because several checks must be complied with before any licenses are issued. A NYC Expeditor will make sure these are accomplished in an expeditious manner.
Therefore, by using a NYC Expeditor, a client can benefit because they have someone who knows the paper work that is required for building permits, where to collect them, as well as the local signatories who may be required to sign the documents.  A client may not know all these and therefore waste a lot of time if they decide to do this work without a NYC Expeditor.
NYC Expeditor –Benefits of using.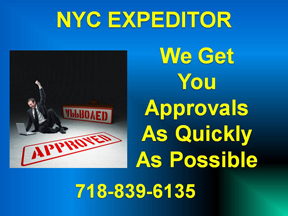 A NYC Expeditor hastens the whole procedure of getting a permit.   This is because it is a tedious activity which can only be hastened by the company due to their expertise.  They know who to talk to and where to take specific documentation based on experience.
A NYC Expeditor will work hand in hand with a client from the application process to ensure all the relevant documentation required is filled out correctly and attached.  This not only prevents the expediter from repeating tasks but saves on time and cost which often occur when mistakes are done in the beginning.
Another benefit is that a NYC Expeditor keeps track of submission deadlines and is able to avoid penalties for late submissions. This saves a client from incurring unnecessary costs.
A NYC Expeditor is able to give the client feedback on the status of their license application on a regular basis.
A NYC Expeditor helps a client get all their permits and certificate of occupancy in good time as well as handle any required amendments.
We also perform many other tasks at NYC Expeditor. One very important aspect the business is taking care of people who have been given a NYC ECB Violation. If you have a NYC ECB Violation from any of the 5 Boroughs we can help correct the ECB Violation or get that ECB Violation removed. We specialize in Queens ECB Violations.
Helping homeowners and businesses with NYC ECB Violations, whether that be related to a NYC ECB Violation concerning an illegal basement apartment, illegal conversion, legalizing a mother daughter apartment, changing the structure of a building for business use or whatever, is also our passion. So if you get a NYC ECB Violation, or need a Building Permit you can count on NYC Expeditor to totally help you.
Call NYC Expeditor for your Building Permit and NYC ECB Violation needs and concerns.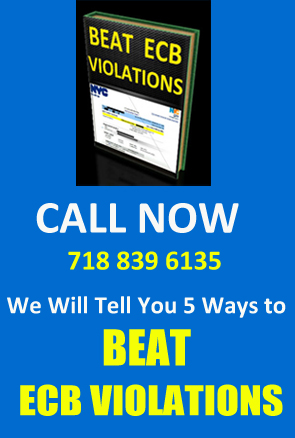 NYC Expeditor
718 839 6135
NYC Expeditor
220-02 Jamaica Ave
Office Unit 7G
Queens Village, NY 11428